GLEEM BEAUTY Reviews – the gateway to a world of enchanting beauty transformations! When it comes to skincare and makeup, finding a brand that resonates with your authentic self can be a challenge. Enter Gleem Beauty, a magical realm where radiance meets empowerment.
Gleem has captured the hearts of beauty enthusiasts worldwide, and it's no wonder why. With a commitment to using natural ingredients and a diverse range of products, Gleem Beauty has become a go-to choice for those seeking genuine beauty experiences.
Read more about Skincare: You may also like
Beauty tips and Home Remedies I Kloris Face Cream: The Ultimate Guide to Radiant Skin I Ahava Reviews: Discover the Secret to Radiant, Nourished Skin I Aesop Skincare Reviews: Discovering the Wonders of Natural Beauty I Ellueur Anti-Aging Moisturizer Reviews: A Comprehensive Review I How to Lighten Dark Underarms: A Step-By-Step Guide I How to Remove Blackheads Overnight: A Complete Guide I Goa Skincare Reviews: It's Easy If You Do It Smart I The Outset Skincare Reviews: What You Need to Know I Drmtlgy Pumpkin Enzyme Mask Reviews: What You Need to Know
Overview of Gleem Beauty Reviews
Marlene Wallach, the creator of Gleem Beauty, is a highly successful businessperson, a forward-thinking leader, and a committed philanthropist. With more than 25 years of experience in the beauty field, Marlene is highly regarded in the business world.
Her deep passion lies in empowering women and encouraging them to look and feel their best. Her dream for Gleem Beauty was to establish a brand that would provide top-notch, affordable beauty products for women of all ages and backgrounds.
Today, Gleem Beauty is a widely recognized brand, all thanks to Marlene's strong leadership and unwavering dedication. She continues to inspire women and contribute to her community through various charitable endeavours.

PROS:
High-Quality Formulas: Gleem Beauty offers top-notch skincare and makeup products crafted with premium ingredients, ensuring effective and satisfying results.
Diverse Product Range: With a wide variety of beauty essentials, Gleem caters to different needs, making it a one-stop shop for all things beauty.
Affordable Pricing: Despite its quality, Gleem Beauty maintains budget-friendly prices, making it accessible to many without compromising on excellence.
Empowering Message: Gleem Beauty promotes self-expression and embraces individuality, inspiring users to feel confident in their unique beauty.
Positive Customer Reviews: Satisfied customers share their delightful experiences, praising Gleem Beauty for its transformative impact.

CONS:
Limited Availability: Some customers might face challenges in accessing Gleem Beauty products due to limited regional distribution.
Potential Skin Sensitivity: While Gleem uses high-quality ingredients, certain individuals with sensitive skin may need to exercise caution and perform patch tests.
Online-Only Shopping: Those who prefer in-store experiences might miss the opportunity to physically explore Gleem's products before purchasing.
Environmental Concerns: The packaging waste associated with online orders could be a concern for environmentally-conscious customers.
Shade Range Constraints: Although aiming for inclusivity, some makeup products may have limited shade options for diverse skin tones.
Key Ingredients Used in Top Gleem Beauty Products
The top 05 products ingredients are as under:
1. One & Done I SPF 30 Day Moisturiser & Primer with Vitamin C Beads
Aloe Barbadensis Leaf Juice – Serving as the foundation for all Gleem products, aloe vera brings more than 75 beneficial components, such as vitamins, minerals, and amino acids, to the skin. This blend enhances skin hydration and stimulates the healing of skin tissue and more.
Panthenol – Also recognized as vitamin B5, panthenol acts as an exceptional moisturizer, reducing trans-epidermal water loss and rapidly hydrating the skin.
Retinyl Palmitate – Representing a milder form of retinoid, retinyl palmitate contributes to improving skin tone and texture. It also lightens areas of hyperpigmentation and diminishes the appearance of fine lines.
Zinc Oxide – In addition to chemical sunscreens (e.g., benzophenone and octinoxate) present in One & Done, we include zinc oxide as a natural, mineral-derived sunscreen ingredient.
2. Soft Immersion Night Moisturizer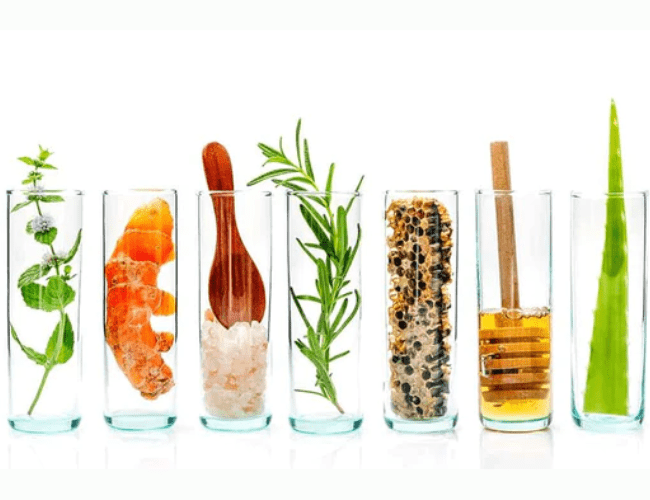 Aloe Barbadensis Leaf Juice – At the core of all Gleem products lies aloe vera, generously providing the skin with over 75 beneficial components, like vitamins, minerals, and amino acids. This potent blend works wonders, enhancing skin hydration, promoting the healing of skin tissue, and more.
Isopropyl Palmitate – An emollient that works wonders for improving skin texture while reducing trans-epidermal water loss.
Glycerin – This humectant plays a vital role in keeping the skin hydrated by drawing moisture from the atmosphere and locking it into the outermost layer of the skin. It's especially well-tolerated by sensitive skin types.
Stearic Acid – A fatty acid acting as an emollient, guarding the skin against water evaporation and strengthening the skin's barrier function.
Glycosaminoglycans – These naturally-occurring carbohydrates prove to be essential in attracting water to the skin, ensuring lasting hydration, and improving the skin's elasticity. Over time, they contribute to reducing the appearance of fine lines.
Jojoba Seed Oil – A natural moisturizer with added antioxidant protection, providing skin hydration and promoting a balanced oil production.
Safflower Seed Oil – Another natural moisturizer that hydrates the skin while helping to balance oil production and enhance the skin's barrier function.
Sodium PCA – An outstandingly hydrating ingredient that draws moisture into the skin's upper layers, ensuring it stays locked in.
Petrolatum – Working as an occlusive, forming a protective barrier on the skin to prevent water evaporation and assist the skin in retaining moisture. It's especially beneficial for dry skin.
3. RxFoliant Leave-On Mask
Aloe Barbadensis Leaf Juice – Serving as the foundation for all Gleem products, aloe vera brings over 75 beneficial components to the skin, including vitamins, minerals, and amino acids. This potent mix works wonderfully, boosting skin hydration and aiding skin tissue mending, among other things.
Glycolic Acid – One of the most well-known alpha hydroxy acids, rejuvenates the skin by improving skin tone and texture and minimising fine lines and wrinkles.
Green Tea Extract – This antioxidant not only protects cells from free radical damage but also soothes the skin.
Glycerin – A humectant that keeps the skin hydrated by drawing moisture from the atmosphere and locking it into the outermost skin layer. It's highly suitable for sensitive skin.
Tocopheryl Acetate – Often known as vitamin E, is an antioxidant that protects cells from free radical damage.
Salicylic Acid – Being a beta hydroxy acid, may efficiently enter oil-clogged pores, making it an important element in acne treatment.
Retinyl Palmitate – A milder retinoid form, helps to improve skin tone and texture, lighten hyperpigmented regions, and reduce the appearance of fine wrinkles.
Jojoba Seed Oil – A natural moisturiser with antioxidant protection that hydrates the skin and helps to regulate oil production.
Panthenol – Panthenol, often known as vitamin B5, is an effective moisturiser that reduces trans-epidermal water loss while swiftly moisturising the skin.
Allantoin – This skin soother is critical in reducing responses to the formulation's active components.
4. Super Nourishing Cleanser
Aloe Barbadensis Leaf Juice –Aloe vera, the foundation of all Gleem products, provides the skin with over 75 essential components, including vitamins, minerals, and amino acids. These components work together to reduce inflammation, increase skin hydration, promote skin tissue repair, and more.
Disodium Cocamphodipropionate – As a gentle cleansing agent, Disodium Cocamphodipropionate delicately lifts dirt, debris, and excess oil from the skin's surface without causing any stripping effects.
Panthenol – Also recognized as vitamin B5, panthenol proves to be an exceptional moisturizing ingredient, effectively reducing trans-epidermal water loss and providing rapid hydration to the skin.
5. Hydrating Toner & Balance
Sorbitol – As a natural humectant, Sorbitol attracts moisture from the air and binds it to skin cells, slowing down evaporation and keeping the skin hydrated.
Silk Amino Acids – This ingredient provides a protective moisture barrier for the skin while imparting a silky and smooth sensation.
Allantoin – A soothing agent for the skin, Allantoin helps minimize reactions to active ingredients in the formulation.
Panthenol – Also known as vitamin B5, Panthenol proves to be an outstanding moisturizing ingredient, effectively reducing trans-epidermal water loss and swiftly hydrating the skin.
How to Use Gleem Beauty?
Apply small dots of the product on your cheeks, forehead, nose, and chin.
Gently massage the product using upward and outward strokes.
Repeat application as needed, but avoid contact with the eyes.
Allow RxFoliantTM to settle for 10 minutes on your skin before applying the Soft Immersion Moisturiser.
For sensitive skin, dilute RxFoliant™ by adding a few drops of moisturizer before applying.
Remember, this is a Leave-On Mask; DO NOT WASH OFF.
Gleem Beauty Reviews: What Do Customers Think?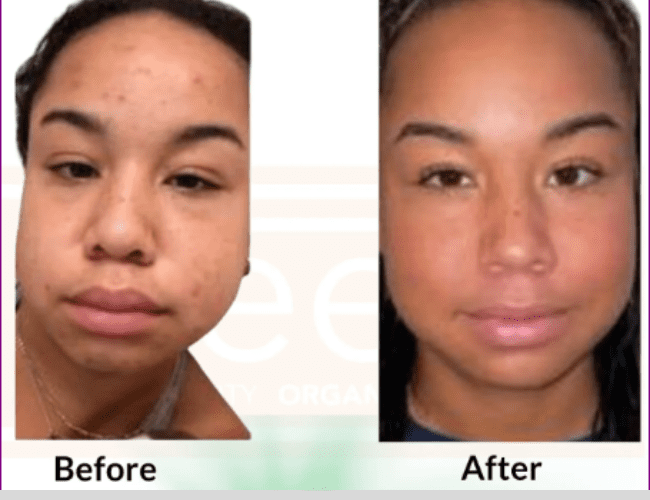 The magic of Gleem Beauty comes to life through the heartfelt reviews of its loyal customers. Journey with us as we explore real-life transformations shared by Gleem enthusiasts. Witness the power of makeup and skincare that goes beyond skin-deep, making individuals feel empowered and confident in their own skin.
Positive Reviews
Excellent moisturiser, and the SPF formula does not aggravate my skin as it has in the past. I have sensitive skin, and most SPF creams upset me. This cream is fantastic! "Marrion"
I go to a spa in the Hamptons that uses this brand, and I always leave feeling amazing. I try this new lotion, and in only two weeks, I've seen a substantial change in my skin's hydration and a considerable reduction in my lines. A must-have for skincare!!! "Gloria"
When I rub it in, my skin appears plump, moisturised, and smooth, and my wrinkles are less visible than they would be if I didn't use this cream every day! "Vikki"
Negative Reviews
I had high hopes for Gleem Beauty products, but unfortunately, they fell short of my expectations. The skincare products left my sensitive skin irritated and dry. Even after trying different items, I couldn't find a suitable match for my skin type. "Glenn Maxwell"
I ordered multiple products from Gleem Beauty, and they arrived with leaky and damaged packaging. It was frustrating to receive products that looked used and messy. The lack of quality control was evident. "Carolyn"
Gleem Beauty: Where Magic Meets Skincare
What makes Gleem Beauty stand out in the crowded beauty industry? The answer lies in its commitment to creating products that are as magical as they are effective. From skincare to makeup, each creation is thoughtfully designed to enhance natural beauty and ignite confidence. Radiate your best self with Gleem's star-studded product line-up!
Gleem's Holy Grail Skincare Products
Let's shine a spotlight on the gems of Gleem's skincare collection. The "Glow Potion" serum has earned a cult following for its ability to breathe life into tired skin, revealing a radiant and youthful complexion. Pair it with the "Dewy Dream" moisturizer, and you have a dream team that keeps your skin hydrated and glowing all day long.
Makeup Magic: Gleem's Enchanting Range
Gleem Beauty isn't just about skincare – it's a one-stop destination for makeup lovers too! Their "Enchanted Eyes" eyeshadow palette is a palette worth swooning over, with its mesmerizing shades and blendable formula. To complement those enchanting eyes, the "Lash Envy" mascara adds dramatic volume and length to your lashes, leaving you spellbound.
The Allure of Gleem: Social Media Buzz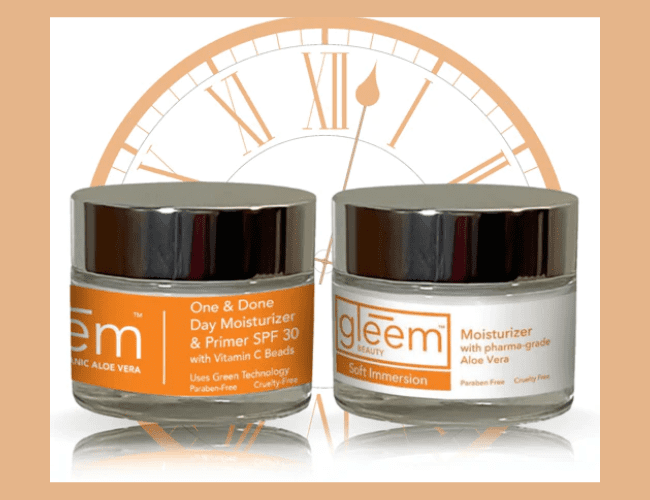 In today's digital age, social media plays a vital role in shaping a brand's image. Gleem Beauty has embraced this realm, with countless users sharing their #GleemBeautyLove stories. The brand's enchanting allure spreads like wildfire through captivating visuals and inspiring before-and-after posts.
Unlock the Gleem Beauty Secret: Your Beauty, Your Way
Ready to embrace the Gleem Beauty magic? Dive into their website and discover a treasure trove of products catered to your unique beauty needs. Whether you seek a radiant skincare routine or captivating makeup looks, Gleem has your back. Unleash your inner enchantress and let your beauty shine with Gleem!
Where to Buy Gleem?
You can buy Gleem Beauty skincare products from the followings:
Shipping & Return Policy
At Gleem Beauty, we prioritize keeping our products clean and fresh. To ensure this, we custom process each individual order as soon as it is received, and within 48 hours of your purchase, the product is on its way to you. This approach prevents products from sitting on shelves for extended periods.
Shipping times typically range from 2 to 4 days, depending on your shipping address. However, please note that delivery estimates may be influenced by factors beyond our control.
For customers within the continental United States, we offer free shipping as advertised. For orders outside this region, a shipping fee calculated by our shipping partners will be applied during checkout. If you need more information, feel free to reach out to us at 866 GO GLEEM (464-5336).
Gleem offers a 90-day money-back guarantee for its products. If you are dissatisfied with any Gleem Beauty product, you can contact them via email or phone within 90 days of ordering. Provide details about the issue or your dissatisfaction and specify whether you want a return or replacement. To process your request, you will need to send the product back to Gleem.
Returns made within 1-30 days will receive a refund to the original payment method. For returns made within 31-90 days, Gleem will issue a store credit for the product's value. Please note that the customer is responsible for shipping costs when returning the product to Gleem.
How to Contact Gleem Beauty?
You can contact Gleem for your inquiries @ https://gleembeauty.com/pages/contact
Conclusion
In a world where beauty can feel elusive, Gleem Beauty Reviews emerge as a guiding light. Its enchanting products and empowering message inspire individuals to embrace their true selves, radiating confidence from within.
With a dedicated community of beauty enthusiasts and a range of magical products, Gleem proves that beauty isn't just skin-deep – it's a transformative journey of self-discovery. Embrace the magic of Gleem Beauty and unlock the secrets to your most radiant and authentic self!
Frequently Asked Questions
Q: What is Gleem Beauty Reviews?
A: Gleem Beauty Reviews is a platform where customers share their experiences and opinions about Gleem Beauty products.
Q: Are Gleem Beauty Reviews genuine?
A: Yes, Gleem Beauty Reviews are authentic testimonials from real customers who have tried and tested the products.
Q: How can I access Gleem Beauty Reviews?
A: You can find Gleem Beauty Reviews on their official website or through reputable beauty platforms and social media.
Q: Can I leave my own review on Gleem Beauty products?
A: Absolutely! Customers are encouraged to share their honest feedback and experiences with Gleem Beauty products.
Q: Do negative reviews also exist for Gleem Beauty products?
A: Yes, Gleem Beauty values honest feedback, and both positive and negative reviews can be found to provide a balanced perspective.