Kloris Face Cream is a skin-defending champion, cherished by many for its unique, ultra-nourishing formula. Its star ingredient? Premium CBD is known for soothing stressed skin and fortifying the skin barrier. But there's more.
This all-natural skincare hero also harnesses the power of Chaga Mushroom Extract and hyaluronic acid to further boost skin health. Perfect for all skin types, Kloris Face Cream promises to hydrate, plump, and revitalize your skin, leaving it feeling soft and radiant. Trust me, it's a game-changer in the world of skincare.
You can also check about the beauty here
You may also like: Goa Skincare Reviews: The Ultimate Guide I Ahava Reviews: Discover the Secret to Radiant, Nourished Skin I Aesop Skincare Reviews: Discovering the Wonders of Natural Beauty I Ellueur Anti-Aging Moisturizer Reviews: A Comprehensive Review I How to Use the Ordinary AHA BHA PEEL- Essential Guide I Barefaced Skincare: The Natural Way to Beautiful Skin I
Understanding KLORIS Face Cream
Understanding Kloris Face Cream is simple. It's a skincare gem packed with high-quality CBD and Chaga Mushroom Extract. Not only does it soothe and strengthen skin, but it also hydrates and plumps. Perfect for all skin types, it effortlessly tackles dry patches and redness.
With its lightweight texture and super hydrating powers, Kloris Face Cream is your skin's new best friend. Give it a try, and witness a radiant transformation.
Description & Main Features of Kloris Face Cream
Meet Kloris Face Cream, your skin's ultimate nourishing partner. This skincare wonder boasts a few key features that make it stand out. Firstly, it's enriched with Kloris Premium CBD (1%) – a soothing elixir for stressed skin. Next, it has a potent dose of Chaga Mushroom Extract to boost your skin's health and radiance.
Plus, it's loaded with hyaluronic acid, ensuring deep hydration and a plump complexion. Best of all, it's suitable for all skin types.
With its lightweight, non-greasy texture, Kloris Face Cream effortlessly leaves your skin feeling super soft and looking its best.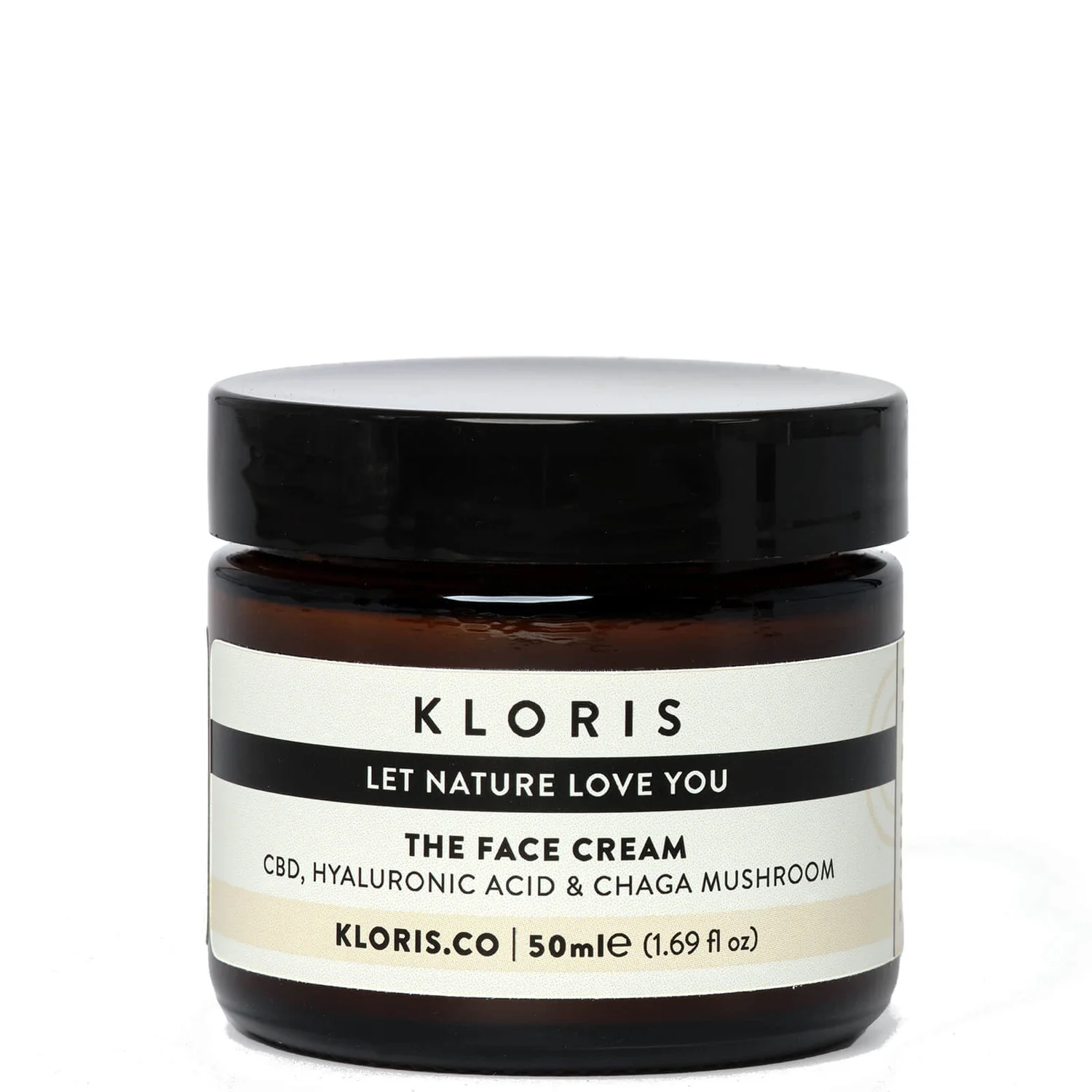 PROS:
It's packed with Premium CBD, known for soothing stressed skin.
The cream includes Chaga Mushroom Extract to boost skin health.
Hyaluronic acid content ensures deep hydration and plumping.
Suitable for all skin types, making it versatile.
It has a lightweight, non-greasy texture that absorbs beautifully into the skin.

CONS:
Some users may find the inclusion of CBD off-putting.
The cream may be on the pricier side compared to other brands.
Although it suits all skin types, individual skin reactions may vary.
Availability could be an issue, as it's not sold in all skincare outlets.
Smell, Packing, and Ease of Use
Kloris Face Cream greets your senses with a subtle and refreshing scent that is not overwhelming, making it a pleasure to use daily. The cream comes in sleek, minimalist packaging that is as elegant as it is functional.
A well-designed pump dispenser ensures that the right amount of cream is delivered each time, reducing waste and maintaining hygiene.
The texture of the cream is lightweight, allowing for effortless application and quick absorption into the skin, making it a breeze to incorporate into your daily skincare routine.
Efficacy and Results
Upon personal use, I noticed the immediate soothing effect of the cream on my skin. Redness and dry patches are noticeably reduced after just a few days of use. The cream didn't feel heavy or greasy, and it kept my skin hydrated throughout the day.
After a few weeks, my skin appeared more radiant, with a noticeable improvement in texture. The hyaluronic acid certainly did its job in plumping my skin and giving it a youthful glow.
The product genuinely lives up to its claims, delivering visible results and an improved skin feel.

Suitable Skin Types
It's designed for all skin types. But the real magic lies in its natural ingredients. Its CBD content works wonders for skin that's stressed, sensitive, or just a tad irritated. Got dry skin? The hyaluronic acid in this cream is ready to swoop in with its hydration superpowers.
But remember, skincare is personal. What works for one might not work for another. So, always do a little patch test before diving in. After all, your skin deserves the best care, and it might just be the perfect match.
User Testimonials and Reviews
When it comes to Kloris Face Cream, the buzz is real. Users rave about this skin-saver, applauding its soothing and hydrating abilities. One loyal fan even called it "so hydrating", and "really lightweight", and praised it for leaving their skin feeling "super soft".
For another, it was a love-at-first-use experience, noting how the texture of their skin greatly improved in just a few days. With such glowing reviews, it's no wonder Kloris Face Cream has a strong fan base.
Improvements in Skin Health
Kloris Face Cream isn't just a quick fix – it's a long-term investment in your skin. Users are not just talking about a momentary glow but real, lasting changes. They share tales of soothed, stress-free skin, stronger skin barriers, and an enviable radiance that doesn't quit.
For some, it's their winter skin hero, offering much-needed hydration and comfort. But the cream isn't just about surface-level beauty. It dives deeper, nourishing your skin for the long haul. With Kloris Face Cream, skin transformations aren't just dreams – they're daily realities.
Comparison with other CBD Face Creams
When you stack Kloris Face Cream up against other CBD-infused face creams on the market, it holds its own. Many creams boast CBD content, but Kloris goes the extra mile with the addition of Chaga Mushroom Extract and hyaluronic acid. While other creams might offer soothing relief, Kloris promises – and delivers – hydration and radiance too.
What Makes Kloris Face Cream Stand Out?
Kloris Face Cream stands out due to its attention to detail.
It goes beyond just being a standard CBD cream.
It offers a comprehensive skincare solution.
Users love its lightweight texture.
They also appreciate its deep hydration capabilities.
It has properties that help strengthen the skin barrier.
The rave reviews it receives are a testament to its effectiveness.
Users have noticed long-term improvements in skin health.
It's not just another face cream in the market; it's a unique skincare experience.
Final Thoughts
In conclusion, Kloris Face Cream has proven itself to be a standout product in the world of skincare. Its attention to detail and comprehensive approach make it a top choice for those seeking a CBD-infused face cream. With its lightweight texture, deep hydration, and skin barrier-strengthening properties, it delivers on its promises.
The positive user reviews and noticeable long-term improvements in skin health are a testament to its overall effectiveness. Investing in Kloris Face Cream is more than just buying another face cream – it's investing in a transformative skincare experience.
So, if you're looking to elevate your skincare routine and achieve radiant, nourished skin, Kloris Face Cream is definitely worth considering.
Call to Action
Have you tried Kloris Face Cream? We would love to hear about your experience! Share your thoughts, feedback, and results in the comments below. Your personal experience can help others make informed decisions about their skincare journey.
If you found this blog post helpful, we encourage you to share it with your friends and family who could also benefit from discovering the wonders of Kloris Face Cream. We value your opinion, so please don't hesitate to leave a comment and share your thoughts.
While you're here, feel free to explore our other blog posts on skincare and beauty. We have a treasure trove of information just waiting for you. Enjoy reading, and here's to your radiant and happy skincare journey!
FAQs
Is CBD face cream good?
CBD oil may be beneficial for certain skin conditions like psoriasis, eczema, and acne, according to the American Academy of Dermatology Association. Additionally, a recent review of the cannabis plant suggests that it may have antibacterial and antifungal properties that could help to reduce skin infections.
What are the benefits of CBD oil on the face?
CBD oil may provide benefits for the face, such as reducing inflammation, soothing skin irritations, moisturizing, and potentially improving conditions like acne, eczema, and rosacea.
How do you use CBD face oil?
1. Wash your face with a gentle cleanser.
2. Apply a few drops of CBD oil to your fingertips.
3. Massage the oil into your face and neck.
4. Apply a moisturizer if desired.
It is important to start with a small amount of CBD oil and gradually increase the amount as needed. It is also important to choose a CBD oil that is designed for use on the face.
Does CBD improve skin?
CBD (cannabidiol) has shown potential in improving skin health due to its anti-inflammatory and antioxidant properties. It may help reduce redness, inflammation, and acne, moisturize the skin, regulate oil production, and promote overall skin balance.