Murad Skincare Reviews are popping up everywhere, and there's a good reason why. This brand, founded by the renowned dermatologist Dr. Howard Murad, has been changing the game in skincare for over three decades. It's not just about looking good; it's about promoting skin health.
Whether you're battling acne or seeking to slow down the signs of aging, Murad has a solution. The glowing reviews speak for themselves. In this article, we're going to dive deep into these reviews and explore some of Murad's most loved products.
So, if you're new to the brand or a long-time fan, stick around. We're about to uncover what makes Murad a skincare favourite.
Read more about Skincare: You may also like
Beauty tips and Home Remedies I Kloris Face Cream: The Ultimate Guide to Radiant Skin I Ahava Reviews: Discover the Secret to Radiant, Nourished Skin I Aesop Skincare Reviews: Discovering the Wonders of Natural Beauty I Ellueur Anti-Aging Moisturizer Reviews: A Comprehensive Review I How to Lighten Dark Underarms: A Step-By-Step Guide I How to Remove Blackheads Overnight: A Complete Guide I Goa Skincare Reviews: It's Easy If You Do It Smart I The Outset Skincare Reviews: What You Need to Know I Drmtlgy Pumpkin Enzyme Mask Reviews: What You Need to Know I Gleem Beauty Reviews: Unmasking the Truth Behind the Glow
Overview of Murad Skincare Reviews
Dr Howard Murad launched Murad in 1989, making it the first skincare company developed by a licenced physician and chemist. Dr. Murad tried to rethink the approach to skincare, shifting from one that focused on specific symptoms to one that aimed for total skin health.

The two most crucial findings were that poor skin health and the majority of traditional dermatological diseases are caused by a lack of cellular hydration combined with cultural stress, or "the unrelenting day-to-day stress of modern living." Murad's ideology is emphasised by this holistic viewpoint: "how you live is connected to how you feel, which is connected to how you look."
Rather of focusing on the symptoms of skin disorders and blemishes, Murad declares that "we're committed to conquering the global health epidemic of stress." Unilever now owns the firm, which is located in El Segundo, California, and continues to expand on its founder's vision and successes.

PROS:
Wide range of products catering to different skin types and concerns.
Formulated by a dermatologist, ensuring a scientific approach to skincare.
Many products have received positive reviews for effectiveness.
The brand focuses on promoting overall skin health, not just addressing individual issues.
Products are free from parabens, sulfates, and phthalates.
They offer regimen kits, which provide a comprehensive routine for specific skin concerns.

CONS:
Some products may be considered expensive compared to other brands.
Certain products may not be suitable for all skin types, causing irritation for some users.
Some reviews mention that results can take time to appear, requiring consistent use.
The brand is not fully vegan, which may be a concern for some customers.
Some customers have reported issues with the packaging, such as pumps not working properly.
Main Features of Murad Skincare Products
Dermatologist-founded skincare company with a 30-year track record
19 patents support medical-grade, easily accessible goods.
The company's philosophy is based on holistic health rather than quick cures.
PETA-approved and cruelty-free products
Afterpay is a payment plan that allows you to pay in installments.
The organisation employs scientifically proven wellness techniques to relieve stress and restore your skin from the inside out. This Murad skincare review provides an overview of their numerous treatment choices, ranging from cleansers to full-fledged skin health regimens.
Murad Regimen Kits Review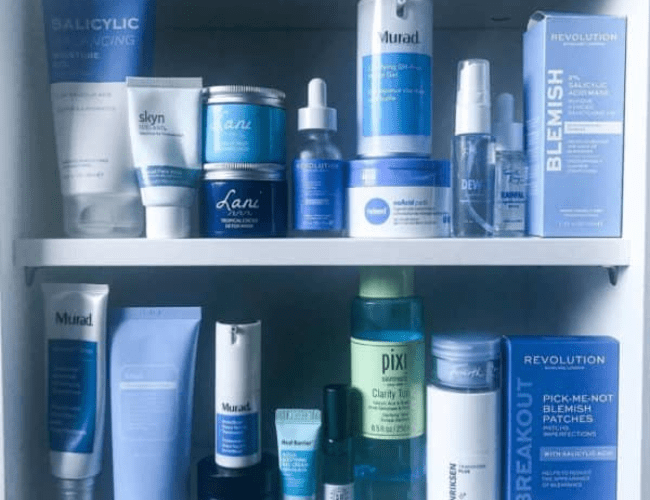 One of the standout offerings from Murad is their regimen kits. These kits design to provide a comprehensive skincare routine, targeting specific skin concerns. Each kit includes a selection of products that work together to deliver noticeable results. Whether you're dealing with acne, aging, or hyperpigmentation, there's a Murad regimen kit for you.
The Murad skincare sets below all feature an auto-delivery option, which will save you 10% on your order.
Murad Active Renewal Regimen 30-Day Kit
Murad's Resurgence brand is represented by five items in the Active Renewal Regimen 30-Day Kit: cleansing cream, renewal serum, sleep cream, eye serum and multi-acid peel. Each product is available in trial quantities, so you won't waste too much if they don't work out for you.
The ingredients in this Murad skincare package will help you look younger by reducing wrinkles and fine lines. This bundle is worth $98 yet costs only $45.
Murad Resurgence Complete Skincare Regimen
This Murad package includes a 90-day, round-the-clock regimen of the whole Resurgence range, which includes: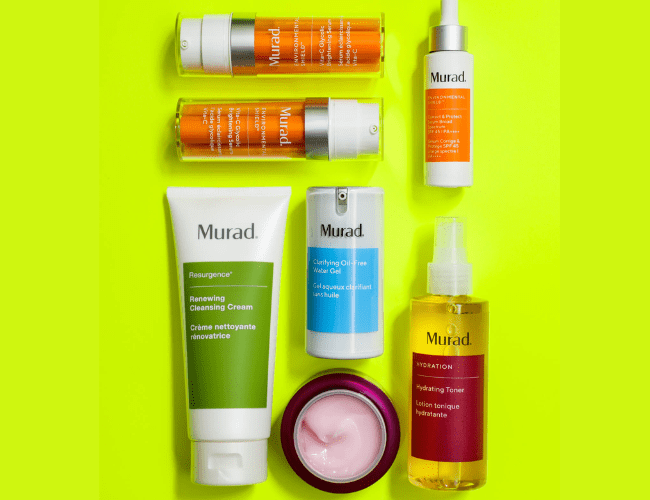 Intensive Age-Diffusing Serum Renewing Cleansing Cream
Moisture-Balancing Broad Spectrum SPF 30
Hydrating Toner Renewing Eye Cream Age-Balancing Night Cream
These products, when used together, address the visible symptoms of ageing by enhancing firmness and elasticity, moisturising the skin, and minimising the appearance of fine lines and deep wrinkles.
The Resurgence Complete Skincare Regimen, which is worth $383, is available for $250 on the Murad website.
Murad AHA/BHA Exfoliating Cleanser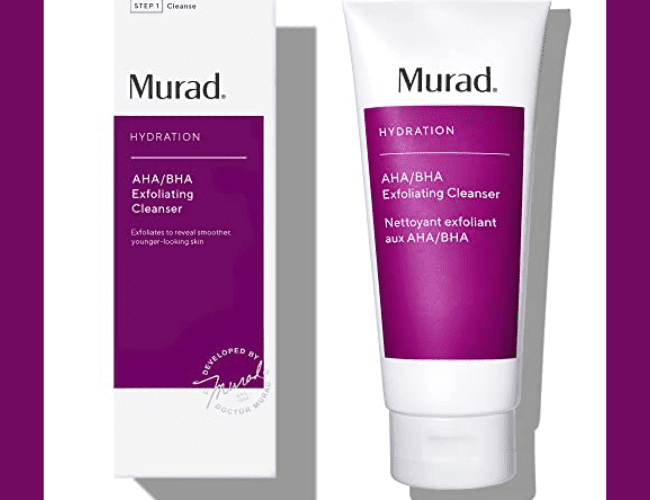 Dull, dry, or dead skin not only dulls your appearance, but it can also impair the efficiency of your skincare products by inhibiting their penetration into the skin.
The AHA/BHA Exfoliating Cleanser, which combines all of the advantages of the other Murad exfoliators into a cleanser, removes this barrier while also leaving your skin appearing healthier and more revitalised.
This cleanser contains sodium PCA to attract and retain moisture in addition to the active exfoliating ingredients (salicylic, lactic, and glycolic acids). As part of your overall skincare regimen, apply this 2-3 times each week.
The AHA/BHA Exfoliating Cleanser is available in three sizes and prices: 2 oz ($16), 6.75 oz ($42), and 16.9 oz ($61).
Murad Acne Control Clarifying Cleanser
For those struggling with acne, the Murad Acne Control Clarifying Cleanser is a game-changer. This potent cleanser contains 1.5% salicylic acid to clear breakouts and prevent new ones from forming. It also includes green tea extract to soothe and calm the skin. Many customers have noted significant improvements in their acne after using this cleanser.
This Acne Control Clarifying Cleanser is available in quantities ranging from 2-16.9 fl oz and costs between $12 and $60.
Murad Hydro-Dynamic Ultimate Moisturizer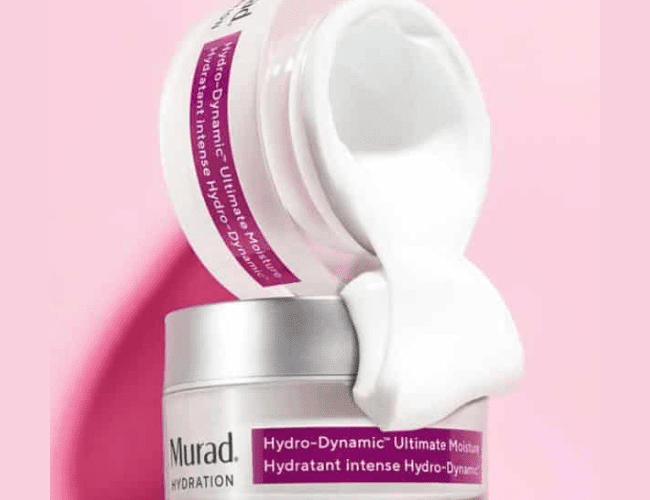 The Murad Hydro-Dynamic Ultimate Moisturizer is a luxurious, yet lightweight moisturizer that provides 24-hour hydration. It's formulated with advanced hyaluronic acid technology to enhance skin's ability to retain water, resulting in smoother, plumper, and more youthful-looking skin.
This Murad moisturiser is suitable for all skin types . It can use throughout the day or at night. It is available in a single size (1.7 fl oz) and costs $75.
Murad Rapid Collagen Infusion
The Murad Rapid Collagen Infusion is a fast-acting treatment that boosts collagen and hydration to reduce the appearance of wrinkles and fine lines. Users love its lightweight texture and the noticeable plumping effect it has on their skin.
Use this in the morning and at night to re-volumize your skin and keep it looking good all day. The Rapid Collagen Infusion costs $79.
Murad Retinol Youth Renewal Serum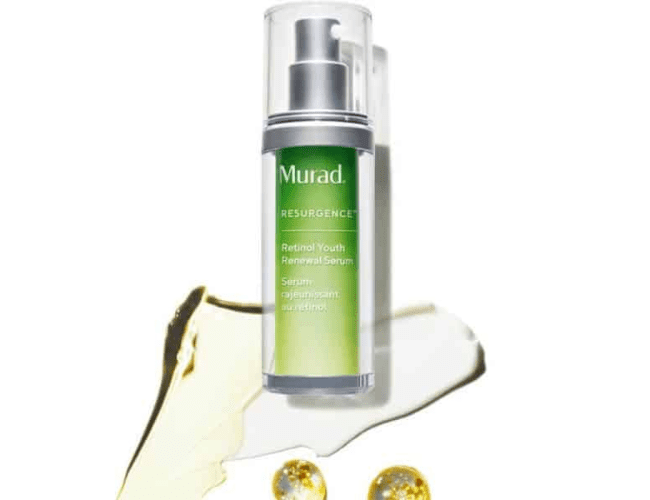 The Murad Retinol Youth Renewal Serum is a powerful anti-aging serum that uses retinol and a peptide-rich red algae extract to visibly reduce fine lines and wrinkles, while evening skin tone for a more youthful appearance.
To further amp up your anti-aging therapy, combine this serum with the Retinol Night Cream for 24-hour wrinkle-fighting. The Retinol Youth Renewal Serum is $89 for 1 fl oz, or $28 for the travel-size version (0.33 fl oz).
Is Murad Skincare Medical Grade?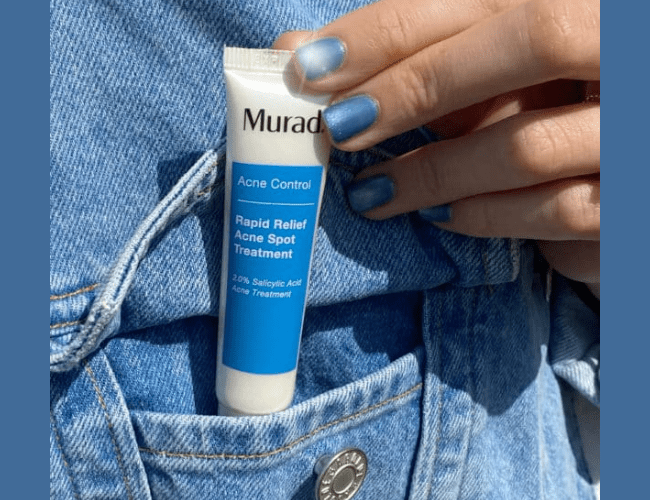 Dr. Howard Murad, a registered dermatologist and chemist, established Murad with the goal of developing a medical-grade skincare product that combines important skin health findings with modern skincare technologies. Murad was also one of the first firms to employ glycolic acid in their products, which is now a common component in skincare.
Although Murad products are considered medical-grade, you do not need a prescription to purchase them. Murad skincare is an over-the-counter skincare brand that is widely available worldwide.
Is Murad Skincare Good For Aging Skin?
Murad skincare offers a range of products specifically designed to combat signs of aging like wrinkles and fine lines. Their Resurgence line, including the Renewing Cleansing Cream and the Replenishing Multi-Acid Peel, is dedicated to anti-aging.
The cleansing cream not only cleanses but also gently exfoliates and moisturizes, while the multi-acid peel exfoliates, smooths, and hydrates the skin.
Other anti-aging treatments from Murad include the Retinol Youth Renewal Serum, Age-Balancing Moisturizer, Retinol Youth Renewal Night Cream, and a variety of eye creams, masks, and peels.
Murad Skincare Reviews: What Do Customers Think?
Overall, customer reviews of Murad skincare are overwhelmingly positive. Users appreciate the high-quality ingredients, the scientific approach, and most importantly, the results they see in their skin. Some of the most praised products include the AHA/BHA Exfoliating Cleanser, the Acne Control Clarifying Cleanser, and the Retinol Youth Renewal Serum.
Positive Reviews
For the past three months, I've been using Murad Resurgence and Murad Retinol Youth Renewal night cream. My skin is less wrinkled. "Margie Armstrong"
I've tried several products for wrinkle prevention and skin smoothness. This is my favourite, and I will buy it again. Although it is pricey, a tiny amount goes a long way, so it lasts and works. "anastasia kelly"
I've been using this stuff for several years. My skin feels so soft, and it has really helped with wrinkles. "Lorri Twaddle"
Negative Reviews
Disgusting odour has to be discarded. "Kelle"
When I used this, my face broke out, and I've never had that response before. It didn't feel moisturising or worth the money. "Beverly Elliott"
Is Murad Skincare Products Worth It?
According to this Murad skincare review, the products are effective and useful. Even if you have no prior expertise with complicated formulae, the brand's website gives enough of information so you know precisely what to use and how to utilise it.
Murad's skincare is cruelty-free and supported by 19 patents, which may appeal to ethical buyers. They strive hard to guarantee that the items are scientifically sound. Though they may be a touch pricey, there are always specials available to assist you save money when trying out new formulas—stay tuned for more information on this below!
Murad Skincare Reviews: Promotions & Discounts
Murad often runs promotions and discounts on their website, making it a great place to score deals on your favorite products. Be sure to sign up for their newsletter to stay updated on the latest offers.
However, We discovered a few promos and discounts for you to enjoy at the time of this Murad skincare review:
Additional Murad benefits may be found on the brand's special offers website.
Refer a friend: offer a buddy $15 off a $50 or more purchase, and you'll earn the same amount once they redeem it.
Sign up for the Murad rewards system to earn points.
Where to Buy Murad?
Murad skincare products may be purchased directly from the company's website at murad.com, but considering the comments we mentioned above, you might want to try one of these retail partners instead:
Conclusion
Finally, "Murad Skincare Reviews" indicate a brand dedicated to enhancing skin health and attractiveness. Murad provides something for everyone, from acne treatments to anti-aging therapies. The positive feedback attests to the efficacy of their scientifically supported formulae.
Whether you're new to skincare or a seasoned pro, Murad has a product that will help you accomplish your skin objectives. So, if you're debating whether or not to try Murad, let the favourable feedback lead you.
The evidence, after all, is in the pudding. And with Murad, you get what you pay for. So, why bother? Dive into the world of Murad skincare and see how it may benefit your skin.
FAQ
How to Contact Murad
Need to get in touch with Murad? You can reach their customer service team via phone or email, both of which can be found on their website.
Who is Murad owned by?
Dr. Howard Murad started Murad in 1989. It was later purchased by the Unilever firm in 2015.
Does Murad have retinol?
Murad offers a comprehensive anti-aging line that contains retinol. Among the products are:
Serum Retinol Youth Renewal
Youth Renewal Night Cream with Retinol
Eye Serum with Retinol for Youth Renewal
How can I track my Murad order?
Murad recommends putting your products in the order of thinnest to thickest consistency; for example, a lightweight serum should be used before a heavy moisturiser.
Murad also suggests using water-based treatments before oil-based ones. Allow 1-2 minutes for a product to penetrate on your skin after applying it. When your face feels dry, apply the next product and repeat.
What is Murad's Shipping Policy?
Murad provides free standard delivery on purchases of $50 or more; else, postage is $10.
The purchase will be processed and sent within 1-2 business days. The regular delivery method will take 4-7 business days, while the expedited shipping mode will take 2-3 business days.
How to Contact Murad?
If you need more information than what is provided in this Murad skincare review, you can email the firm through the contact page on the brand's website.
You may also phone the firm at 1 (310) 726-0600. Their customer service representatives are available Monday through Friday from 6 a.m. to 6 p.m. PST, and Saturday from 7 a.m. to 3:30 p.m. PST.